Marlene Gaysek
32/17... I recalled that there were a number of workers in the area whowent to their employers and filed false W-4s...and they placed themselvesin enormous fiscal jeoprody...33/000...I think it was about 200 people...MARLENE GAYSEK #19/32 ...33/10... around the time that GK went on television in W. texas ...almost200 workers went to their employers and filed W-4 exemption forms whichprecluded their employers from withholding their own income taxes. Thus,200 former compliant, law-abiding taxpayers placed themselves in enormousfiscal endangerment that they would not have enough paid in to cover theirown taxes...33/45...and had some problems ahead of them... ...34/00...well that's one of the reasons that we developed a guidefor the media so that they could ghelp their readers understand the felatciousnessof these arguments so that anybody that really looked at these marketingpoints could see the lies in their arguments...and that the people who werein good stead with the IRS would not endanger their own circumstances byfollwing these false teachings...34/37... ...34/51...well as far as selective prosecution, IRS selects peopleto prosecute because they fail to comply with the law, willfully fail tocomply with the law...35/02... certrainly we want to assure that people know what the consequencesof following these same actions would be and part of the consequences isfacing criminal prosecution...35/16... and I'm not that familiar with the transcripts of the trial to knowwhether that is part of the argument, *****35/23...but, indeed this is one of the ways that the IRS and other govt.agencies select cases that we recommend for prosecution. that they serveas an example and also as deterence. So that people will, who are complyingare confident that that they're complying for a good reason and to deterpeople from failing to comply...35/48...(CUT W/ VOLUNTARY COMPLIANCE ISSUE) ...36/04...well of course you're asking us to count a negative whichis never easy to do...we know there are still people who try to drop outof the system that's getting harder and harder for us to, for people todo and easier and easier for us to find...What that means if you drop outof the system, you can't own a car, you can't get a driver's license, youcan't buy property, you can't get a credit card, you can't take out a loan.So it's harder and harder for people to drop out of the system...36/40... ...our figures show that the people who are filing rthese types of taxprotest returns are fairly consistent, the numbers are not growing...butof course trying to count what's not there it's hard to give you a figure...36/54... ...we do know that there is a hundred billion dollar tax gap...and thatis, the projedtion of what our researchers tell us should be paid and isnot. Some of this is attributable to tax protesters... I'M PATRICK DORSEY AND I 'M CHIEF OF THE CRIMINAL INVESTIGATION DIV.HERE IN THE DALLAS DISTRICT... ...37/55... well, I guess my first real recollection of it, I wasn'tfamiliar with the name GK, but I was familiar with the posse comitatus andthe more violent tax protest groups in the mid-70s. In fact was involvedwith a number of investigations involving illegal tax protesters of thesame ilk. The potential and dangerous nature of some of these people ofcourse cause us to pay a lot of attention to them and their activities...In1983 I was group manager in Macon , GA...it brought home how dangerous theseindividuals could be... ...38/49...it had a big effect around the coutry as it did with alllaw enforcement... ... ...39/48...in a career with the IRS, I've been involved with a numberof dangerous incident...we send out an armed agent to accompany them... ...40/57...one of the things I think about and you asked Gary this question,what, how does the public percieve us... these people that work here....don'thave anything against us, we are the community, ...that's one of the thingsthat strikes me, we are not the govt. we simply represent them, ...we aresimply represtenataves of your govt.... ....43/00 I hope we don't forget the two law enforcement people thatwe've lost... ...45/30...I absolutely do not agree. GK is not a folk hero, GK is acriminal! He's a murderer...he's not a folk hero...the man was a criminaland ended his life as a criminal... ...MARLENE...46/25...when he talked about the personal committementof our employees,...nobody likes to pay taxes...it is the citizens rightto protest, but until those laws are changed they are expected to complywith them...46/50...Taxes are a very important part of our country theyare the way we make sure our roads get built, that we can defend our country...healthfuldrugs, healthful meats...it is a very personal statement...the people thatadminister the tax laws are concerned about those same things. But whensomebody violates them, we do not take it personally...47/39...(CUT W/BUFORD SAYING THEY DO TAKE IT PERSONALLY)\ ...if somebody says the tax laws stink...it's our job, we don't takeit personally... ....48/23,...the gold standard was not addressed...one of the argumentsis since we got off the gold standard, that value of our notes is not worthmuch so that people would pay their taxes in the value of 1967 dollars...Ibelieve that was the year we went off the gold standard...48/55... ...however, the interesting point was, they would claim their refundin current dollars...so there were games that were played...you have 180Kemployees ...49/24...and if there was a legal way of getting out of paying taxes,certainly one of those 120K people would have come up with it. And all thearguments that we've heard, none of them hold water...the courts alll theway up to the supreme court have held in favor of the govt. on the sideof the govt....if somebody sees this and says heh, that's not such a badidea, we invite them to call us and talk with us about it and give us achance to give the other side...49/58...(SATAN RAP ABOVE)M.GAYSEK#19/32 ...50/32...Jeff when you first called me I was concerned you were goingto do a documentary about all these wonderful ways that people don't haveto pay taxes...and I was concerned about that because when any one of usrenigs on our responsibility to pay our fair share, that means all the restof us that are complying have to pull a heavier load... there's over a 100billion dollars in the tax gap...and all of this comes from ordinary peoplewho don't report cash, moonlighting, it comes from these little cheatersthat's causing a hundred billion dollars in the tax gap and just think ofthe condition our country would be if we had that money right now, we wouldn'thave the deficit we have...I think we'd all feel better...just the factthat you appreciate what you pay for...if you get something for nothingthat's just what it's worth to you...51/57... ...and I think having a stake in your country is kind of a benefit ofpay8ing taxes...it's makes you think I don't like this, I'm going to govote...I like explaining the logic and the good things about the fed. govt.and it suprises a lot of people...it gives me a lot of pleasure to givepeople the good news side of the govt....it makes me feel proud that I dohave some good things to talk to people about especially about the IRS... 56/07...we view the IRS as part of the solution instead of as part ofthe problem in our country... and it makes a difference when you can goto work everyday and make it count...I think every one of our 120K employeesfeel that way...

A timeline of the life of Gordon Kahl, from early childhood interests, to his marriage to Joan Kahl, his decorated military experience, his outspoken tax protest, the Medina shootout, and his unusual death in Arkansas in 1983.

VARIETY /

Indie documaker Jeffrey F. Jackson sticks it to the IRS and the Feds in "Death & Taxes," a hard-hitting reinvestigation of the 1983 Gordon Kahl case, about which questions still linger. Jackson's unfazed, investigative reporting-style approach and inventive handling of familiar material make this a controversial item for fests and progressive webs. Non-U.S. viewers will also get a charge out of its conspiracy theme.

read more CHRONICLES MAGAZINE /

Gordon Kahl was a simple farmer who became famous for not filing income tax returns. Imprisoned and hounded by IRS agents who never did prove he owed any amount of money, Kahl and his son were involved in a shootout with police. The son is still serving a prison sentence, but the father was surrounded and shot in Arkansas by police officers who mutilated and burned his body.

read more GUNS & AMMO /

A new video documentary,

Death & Taxes

, details a case of government murderously out of control that was briefly mentioned in the October 1994

Guns & Ammo

article "The Ugly Truth About Gun Control."

Death & Taxes

is the story of Gordon Kahl, a North Dakota farmer and decorated World War II veteran, and his apparent death at the hands of federal agents.

read more
Death & Taxes (DVD)

First time on DVD (113 min)

$29.95

Death & Taxes (VHS)

This is a limited edition collector's VHS in the original unbroken packaging. (113 min)

$42.00

Death & Taxes Miniseries (DVD)

Set of 6 DVD's comprising the complete uncut footage from the documentary film project. (783 min)

$195.00

Now Available!
This set of 6 DVD's comprises over 13 hours of uncut footage, including a 2+ hour prison interview with Yorie Kahl, and candid interviews with wife Joan Kahl. In this rich stockpile of research, you'll find many more threads than could reasonably be pursued in the final feature.
The Death & Taxes Miniseries DVD Set Includes...
01: Gordon Kahl Meets With Head North Dakota U.S. Marshal Bud Warren (60 min) 02: The Beginning: Gordon Kahl's military experience and views on a variety of subjects (93 min) 03: Gordon's Texas Tax Trial (90 min) 04: Medina Shootout (60 min) 05: Gordon Kahl Was...: A montage of over 25 people describing who Gordon Kahl was in their eyes. (50 min) 06: Mysterious Death In Arkansas (90 min) 07: Media Circus: Chronological portrayal of Gordon Kahl in the media (70 min) 08: Yorie Kahl Prison Interview (150 min) 09: Joan Kahl Uncut Interviews (120 min)
A little-known fact regarding
Death & Taxes
is the
surprising connection to Timothy McVeigh
and the ATF /
Oklahoma City Bombing
. Here's a clip of
Jackson
sharing the story during a director's commentary on his film
Postal Worker
.
The story of Gordon Kahl so captured the attention of mainstream America that it was turned into
a highly-rated made-for-television movie
titled
In The Line of Duty - Manhunt In The Dakotas
.
| | |
| --- | --- |
| DEATH & TAXES is the story of Gordon Kahl, a North Dakota farmer who became America's "most-wanted" fugitive. How had a WWII war hero become the target of one of the largest manhunts in FBI history? | |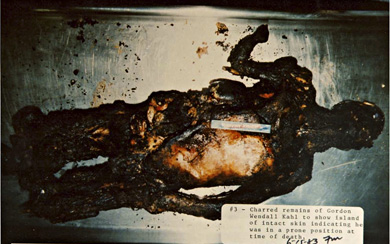 The badly burned remains of Gordon Kahl, with an island of skin that shows he was in a prone position at the time of the fire.
Was Kahl a racist, gun-toting fanatic? Or a victim of an IRS policy of harassing vocal tax protestors into silence to keep the rest of us intimidated? Did Bill Clinton conspire to cover-up the torture and execution of Gordon Kahl in Arkansas? Did federal agents mutilate and burn the body to cover-up the murder of the wrong man? DEATH & TAXES follows the trail of Gordon Kahl as his body is exhumed for a new autopsy. Building on newsreel clips covering two fiery shootouts and hundreds of interviews -- with IRS agents and federal prosecutors as well as Kahl's family and supporters -- D&T explores the myths and controversies surrounding a man who dared to challenge the federal income tax system. Some revile Kahl as a cop killer. Others revere him as an American patriot. Which was he?