Jack Miller
JACK MILLER Tape #132/36...I had never met him. I had heard about him just several days priorto this incident from a US Marshal who was coming thru Jamestown, who stoppedand informed us that they had a misdemeanor warrant for this gentlemen.That he was travelling about the country and that they would like to bekept posted if we saw him...Carl Wigglesworth...2/58... ...I got this directly from Carl because I'd known him for years...hewas relating to us about the warrant and things...3/15... ...I'd heard that he headed up some of the farm meetings, ...but asfar as having some good intelligence on the guy I can't say that I did...3/35... ...3/47...I hate to say he was one of my deputies, he was a stutsmancounty deputy, a veteran deputy, Bradley Kapp, yes...JACK MILLER Tape #13 ...4/00...yeah, he called me I don't remember what time it was, buthe told me that there was a meeting going on in Medina and that he was sureGK was going to be there or GK was there, I can't remember exactly whathe said. I basically told him at that point that we ...4/16... ...I'd not seen the warrant, that Carl had not shown us the warrant, or we didn't have the warrant in hand, so that I didn't feel that it wasappropriate for our office to attempt to arrest at that point in time withouta warrant...4/26... ... ...4/32...well, not necessarily, was the next best thing, he calledthe people with the warrant and then the people with the warrant then cameto effectively arrest him and Bradley helped them and I'd of done the samething, if I'd of been there... ...5/10...when the FBI and US Marshals took over we offered to helpthem. ...I worked on several different teams during this investigation... ...6/10...well, see, after I was at the crime scene, actually my wifehad recieved a call from Vernon Wagner that he was at the crime scene there,he and David Broer both......Jim Lobsinger, an agent with the bureau ofcriminal investigation and I, we then went to Streeter to interview thesepeople...and we did, at vernon wagners home. Lobsinger who is also a policeartist, as I interviewed them he made a big sketch of what occurred...6/57... ...7/05...I knew vernon, yes, I didn't know Broer, I knew of him... ...well, I'd been doing investigations for a number of years... ...8/02...very quiet lady, she was nice to visit with...(re: Joan)... ...8/35...Brent Frost and I talked with Yorie at the hospital, I'm tryingto remember without reports in front of me it's hard to remember, but Ithink we talked with him twice...8/45... ...both times, asked him what occurred at the shootout...well, he ahh,he, was pretty sure he was the one that fired the first round, I'm prettysure I testified to that in court...He seemed to be very comfortable withwhat occurred, comfortable with himself, to the point of feeling good aboutit...9/20... 9/50...well, obviously it had a devastating effect on the community ofMedina, of course, and of course that went thru the whole county, it wasa very black day for us... ...10/15...I know our deputy Bradley Kapp was very much traumatizedby this, but came out of it very well... ...10/45...some of the things that I liked about the book thought hewas very objective...most people thought of it as a novel. Some of the thingsthat the author said that I said are not correct because I never talkedto the author personally...11/09... ...well, after we interviewed Broer and Wagner in Streeter, drove backand called Rodney Webb and he told us to go back and arrest them... ...12/46...well, I was very happy with Judge Benson and the way thatthe trial went. I think that justice was served...

A timeline of the life of Gordon Kahl, from early childhood interests, to his marriage to Joan Kahl, his decorated military experience, his outspoken tax protest, the Medina shootout, and his unusual death in Arkansas in 1983.

VARIETY /

Indie documaker Jeffrey F. Jackson sticks it to the IRS and the Feds in "Death & Taxes," a hard-hitting reinvestigation of the 1983 Gordon Kahl case, about which questions still linger. Jackson's unfazed, investigative reporting-style approach and inventive handling of familiar material make this a controversial item for fests and progressive webs. Non-U.S. viewers will also get a charge out of its conspiracy theme.

read more CHRONICLES MAGAZINE /

Gordon Kahl was a simple farmer who became famous for not filing income tax returns. Imprisoned and hounded by IRS agents who never did prove he owed any amount of money, Kahl and his son were involved in a shootout with police. The son is still serving a prison sentence, but the father was surrounded and shot in Arkansas by police officers who mutilated and burned his body.

read more GUNS & AMMO /

A new video documentary,

Death & Taxes

, details a case of government murderously out of control that was briefly mentioned in the October 1994

Guns & Ammo

article "The Ugly Truth About Gun Control."

Death & Taxes

is the story of Gordon Kahl, a North Dakota farmer and decorated World War II veteran, and his apparent death at the hands of federal agents.

read more
Death & Taxes (DVD)

First time on DVD (113 min)

$29.95

Death & Taxes (VHS)

This is a limited edition collector's VHS in the original unbroken packaging. (113 min)

$42.00

Death & Taxes Miniseries (DVD)

Set of 6 DVD's comprising the complete uncut footage from the documentary film project. (783 min)

$195.00

Now Available!
This set of 6 DVD's comprises over 13 hours of uncut footage, including a 2+ hour prison interview with Yorie Kahl, and candid interviews with wife Joan Kahl. In this rich stockpile of research, you'll find many more threads than could reasonably be pursued in the final feature.
The Death & Taxes Miniseries DVD Set Includes...
01: Gordon Kahl Meets With Head North Dakota U.S. Marshal Bud Warren (60 min) 02: The Beginning: Gordon Kahl's military experience and views on a variety of subjects (93 min) 03: Gordon's Texas Tax Trial (90 min) 04: Medina Shootout (60 min) 05: Gordon Kahl Was...: A montage of over 25 people describing who Gordon Kahl was in their eyes. (50 min) 06: Mysterious Death In Arkansas (90 min) 07: Media Circus: Chronological portrayal of Gordon Kahl in the media (70 min) 08: Yorie Kahl Prison Interview (150 min) 09: Joan Kahl Uncut Interviews (120 min)
A little-known fact regarding
Death & Taxes
is the
surprising connection to Timothy McVeigh
and the ATF /
Oklahoma City Bombing
. Here's a clip of
Jackson
sharing the story during a director's commentary on his film
Postal Worker
.
The story of Gordon Kahl so captured the attention of mainstream America that it was turned into
a highly-rated made-for-television movie
titled
In The Line of Duty - Manhunt In The Dakotas
.
| | |
| --- | --- |
| DEATH & TAXES is the story of Gordon Kahl, a North Dakota farmer who became America's "most-wanted" fugitive. How had a WWII war hero become the target of one of the largest manhunts in FBI history? | |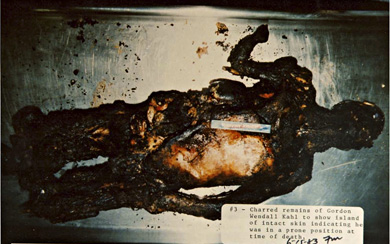 The badly burned remains of Gordon Kahl, with an island of skin that shows he was in a prone position at the time of the fire.
Was Kahl a racist, gun-toting fanatic? Or a victim of an IRS policy of harassing vocal tax protestors into silence to keep the rest of us intimidated? Did Bill Clinton conspire to cover-up the torture and execution of Gordon Kahl in Arkansas? Did federal agents mutilate and burn the body to cover-up the murder of the wrong man? DEATH & TAXES follows the trail of Gordon Kahl as his body is exhumed for a new autopsy. Building on newsreel clips covering two fiery shootouts and hundreds of interviews -- with IRS agents and federal prosecutors as well as Kahl's family and supporters -- D&T explores the myths and controversies surrounding a man who dared to challenge the federal income tax system. Some revile Kahl as a cop killer. Others revere him as an American patriot. Which was he?